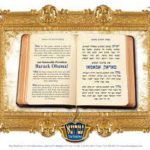 By Marlena Tanya Muchnick, LDS author, speaker, researcher
Since joining the LDS church almost 24 years ago, I have heard members discuss the nuts and bolts of their inheritance as adoptees into the House of Israel.
Thanks to scriptures and scriptorians, the answers are clear, with some study. You may want to copy and print this article so you can answer any questions with some degree of accuracy.
According to Professor Daniel H. Ludlow, some members of the church are literal descendants of Israel by birth and others are adopted in. The literal descendants are Hebrews. Genesis 10:21 tells us that word comes from the Hebrew root eber The great patriarch Abraham and a great-grandson, Joseph. So any Jewish convert to the church is a literal descendant, as well as anyone whose lineage can be traced back to any of Abraham's sons from his wives: Sarah, Hagar or Keturah.
Entire nations are included: those from Arab nations and other groups who have intermarried into other cultures and races.
Now, to muddy the waters a bit, we have to list who belongs to a tribe (family) of Israel or to the House of Israel. Remember Jacob (Ya a cov), Isaac's (Yitzak)son? Jacob's name was changed to Israel by the Lord. His four wives had twelve sons. See the list and names of tribes at the end of this article.
These sons carried their names as they continued their separate families and their descendants are known as the tribes of Israel and called Israelites.
So all Israelites are Hebrews (from Abraham), but not all Hebrews are Israelites. Judah's descendants are called Jews. Ephraim's descendants are called Ephraimites. See Judges 12:4-6.
Ok. That is clear and we all remember it. Now onto the Gentiles.
That word has several meanings: foreign, other, or non. That "G" word applies also to family, religious or political or geographical relationships. So an individual may be a non-Gentile living in a Gentile nation!!
My own take on this situation is this: I learned that by LDS standards, the Jewish people are really Gentiles, since they are not members of this church. Of course, to Jews, all non-Jews are Gentiles. Mormons also consider themselves to be non-Gentile once they are baptized.

So, in the Mormon view, all the other religious people of the earth are Gentiles (non-Israelitish) along with the Jews. I had no idea there were people on the earth who considered a Jew to be a Gentile.
When I first opened the Book of Mormon I read that it is written to the Jew first and the Gentile second. It doesn't say anything about being written to the non-Gentile. That would be the Mormons.
So I understand from all of that, that I am both a Jew, a Gentile and a non-Gentile and I am supposed to read the Book of Mormon. Mormons, on the other hand, being non-Gentile, can read it if they want to!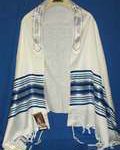 Do you see now why I advise my readers to print this article? To a Hebrew, a Gentile is a non-Hebrew. To an Israelite, a Gentile is a non-Israelite. And to a Jew, a Gentile is a non-Jew.
Let us now venture into the meaning of lineage as it pertains to patriarchal blessings. Here again, Dr. Ludlow is the expert:
The basic meaning of lineage is "descent in a line from a common progenitor." Thus, in a patriarchal blessing, lineage is being declared (from Abraham, or Israel, or Ephraim, etc.) when terms indicating direct descent are used, such as "son of," "daughter of," "seed of," "blood of," "descendant of," or "from the loins of."(From Of the House of Israel, Ensign Jan 1991).
A "vital part" of every patriarchal blessing is the declaration of lineage. This comes through the promptings of the Holy Ghost and is today for most of us the only way we can know of our tribal descendancy. These are statements of bloodlines and are essential to our understanding of who we are and to whom we are connected in this life. Each ancient family bloodline has its own biblical blessings.
There are several quotations from scripture that elucidate this discussion. Two are listed here:
Abraham 2:9–11: "Thou shalt be a blessing unto thy seed after thee, that in their hands they shall bear this ministry and Priesthood unto all nations; and I will bless them through thy name; for as many as receive this Gospel shall be called after thy name, and shall be accounted thy seed, and shall rise up and bless thee, as their father; … and in thy seed after thee (that is to say, the literal seed, or the seed of the body) shall all the families of the earth be blessed, even with the blessings of the Gospel, which are the blessings of salvation, even of life eternal."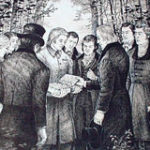 <Doctrine and Covenants 109:57–58, 60, 67: "That all the ends of the earth may know that we, thy servants, have heard thy voice, and that thou hast sent us; that from among all these, thy servants, the sons of Jacob, may gather out the righteous. … Now these words, O Lord, we have spoken before thee, concerning the revelations and commandments which thou hast given unto us, who are identified with the Gentiles. … And may all the scattered remnants of Israel, who have been driven to the ends of the earth, come to a knowledge of the truth, believe in the Messiah, and be redeemed from oppression, and rejoice before thee."
President Joseph Fielding Smith wrote: "In this Dispensation of the Fulness of Times, the gospel came first to the Gentiles and then is to go to the Jews. However, the Gentiles who receive the gospel are, in the greater part, Gentiles who have the blood of Israel in their veins. There is a very significant statement in the words of Moroni as recorded on the title page of the Book of Mormon that it was " … 'To come forth … by way of the Gentile. …'
We are all literal spirit children of God the Father. We are His and He is ours throughout eternity. Let us all remember these reasons when we call one another brother and sister.
Jacob's wives and their children: From Leah—Reuben, Simeon, Levi, Judah, Issachar, and Zebulun; from Rachel—Joseph and Benjamin; from Bilhah—Dan and Naphtali; from Zilpah—Gad and Asher.
www.jewishconvert-lds.com
www.peopleofthebook-judaica.com
http://comeuntochrist.blogspot.com
http://judaicaworld.blogspot.com
http://judaicaworld.wordpress.com